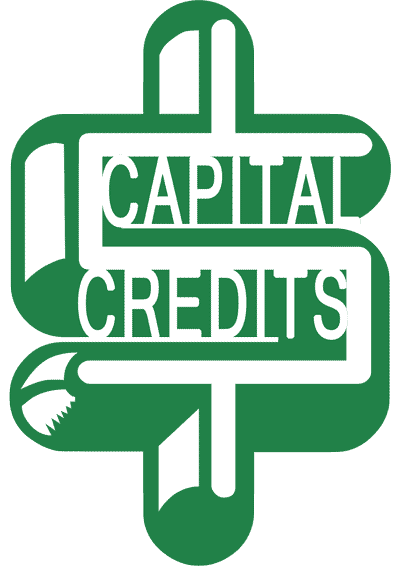 Every year Guthrie County REC issues thousands of dollars back to its members. Dividends are refunded to our members when Guthrie County REC makes more than it needs for operating costs, capital improvements, and cash reserves. Any capital over and above that cost (net profit) is collected and allocated back to our members, known as capital credits.
Because Guthrie County REC is a not-for-profit, member-owned electric distribution utility, our members own the cooperative, not private investors.

The retirement of capital credits is the tangible demonstration of ownership in the cooperative.

The board of directors set aggressive goals for retiring capital credits of 15 years or less.
Distribution of Capital Credits…
At the end of the year, the margins are allocated to each member's capital credit account in proportion to the amount of electricity purchased.

An allocation statement is sent annually to each member outlining the total amount of equity the account has accumulated during the years of service.

As margins are generated and until they are returned, this money is put to work within the cooperative, minimizing debt financing and strengthening financial position.

The capital credit amount is determined by the board of directors and set at a level that maintains the financial integrity of the cooperative.

The board of directors will maintain adequate cash flow; preserve enough equity in the cooperative; and reinvest dollars into system improvements, new services, and capital budget.
Important Capital Credit reminders… 
Always keep Guthrie County REC informed of all changes to your account. Such changes include any change of address, change of name, or changes to executor of account. This is the best way to ensure your capital credit payout gets to you.  

Guthrie County REC publishes a list of all unclaimed capital credits in the newsletter each year. As provided by Iowa law, Guthrie County REC may deem any unclaimed dividends to be forfeited after three years. The abandoned property shall be used for education or economic development purposes deemed fit by the cooperative.

If you suspect you may have unclaimed dividends with Guthrie County REC, contact us at (641) 747-2206 or (888) 747-2206. Be sure to include your name, current address and phone number in your correspondence with the cooperative. If you are making a claim on behalf of a deceased individual, please call our office.
Estates…
Approved by Guthrie County REC members, pay out of estates can be done in one payment. First, the active account has to be transferred to another member, a new owners name or disconnected. Guthrie County REC will only pay out to one person for the estate. It is that individual's responsibility to divide the payment if needed. Guthrie County REC requires an uncertified copy of a death certificate and proof of executorship along with a waiver that can be obtained from the cooperative's office.
Agreement Termination Membership Form
If you are interested in finding out more information on the process of the estates, please contact Marlene at Guthrie County REC at (641) 747-2206 or (888) 747-2206.